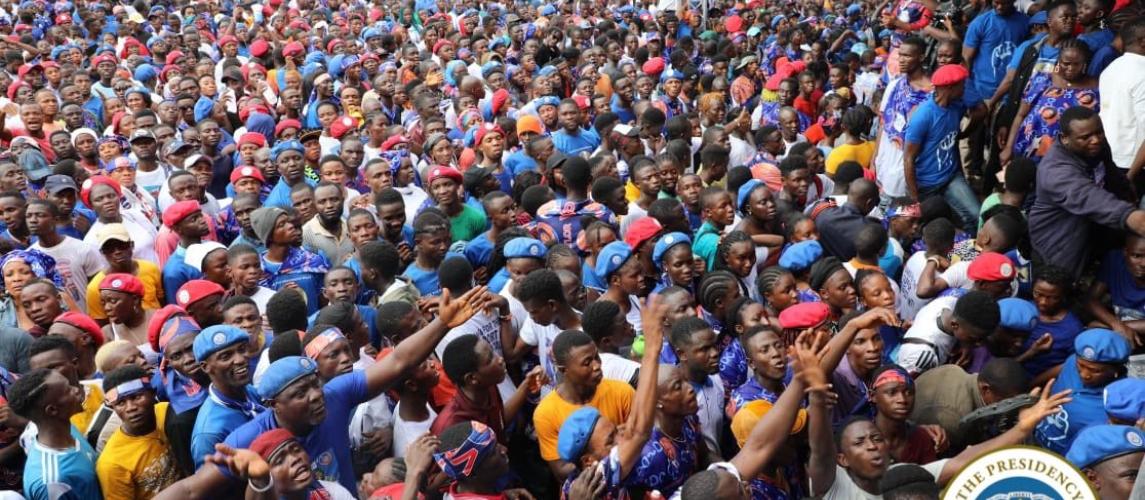 "Number 18 Is Your Number," President Weah Woos Liberians, Says He's Their Developer, Implementer
Monrovia, Liberia - The President of the Republic and Standard-bearer of the Coalition for Democratic Change (CDC), Dr. George Manneh Weah has rallied partisans, supporters, and all Liberians to reelect him and his CDC government, stating that his records as a passionate implementer and developer are solid and assuring.
"Fellow Liberians, I am your president, your implementer, your developer, your talk and do," Dr. Weah said at the campaign launch of his Coalition for Democratic Change, the largest gathering ever in Liberia's political history, on Thursday, September 7.
"Before becoming president, I educated people," he added. "Today, it is no surprise that education is free. Today, your children can attend public universities free of charge. Today, parents do not have to struggle to pay WASSCE fees or like I did to pay my fees."
President Weah said he and the CDC remain unwaveringly committed to what he calls "the people's struggle" launched several years ago to emancipate the country from the clutches of underdevelopment.
He prodded the floods of humans who overflowed the Antoinette Tubman Stadium and nearby streets in Central Monrovia: "We are here because of what we have achieved together and to also show the world how true democracy works – there is no political prisoners behind bars."
The CDC Standard-bear further recounted successes of his administration achieved, according to him, along with his supporters: "We have freedom of speech and of the press. We have gender equality and women development. We have youth empowerment and participation in government. Together, we have achieved a lot in the infrastructure development."
He continued: "On October 10, 2023, Vote George Manneh Weah for President, your leader, your father, your brother, and your friend. Vote Jewel Howard-Taylor for Vice President, your mother, your sister, and your friend. Number 18 is your number; number 18 is our number. It is your street. It is our street. We are all 18ners."
He hailed first-time voters for what he called their "right choice" made to follow and vote for the Coalition for Democratic Change, which he described as the people's party.
The President reminded supporters and citizens to be mindful of those claiming to be rescuers and fixers to show them what they have ever rescued and fixed for the Liberian people. 
"Did they rescue the bad roads in Liberia?" he quipped. "Did they rescue the education system? Did they rescue the health sector? Did they rescue the agricultural sector? Did they rescue our economy? Did they rescue us from unemployment? The answer is a big no. They had leadership for over 40 years, and they squandered all the opportunities to rescue you."
The President boasted of his records of less than six years of leadership, including building more hospitals than any other president and paving more roads than any president in Liberia's history.
He added: "For the first time in our history, we have constructed parks and recreational facilities for our young people; and this will be replicated throughout the 15 counties of Liberia after you give us a new mandate."
President Weah also announced that his government would re-activate and strengthen the national cadet program to give young people to gain experience on the job while in school.
Hundreds of thousands of cheering partisans and supporters from all walks of life swarmed Monrovia's cramped streets Thursday in a glaring show of loyalty and commitment to President Weah second term bid to continue his nationwide development initiatives.